---
New!
Make your own Text Mosaic!



www.pingotec.com
---
Art Samples




Fine Art




Decofusion




3D Mosaics


---
Available now and it's FREE!
PicPaks Picture Packing Mosaic Program
Click here to find out more about PicPaks!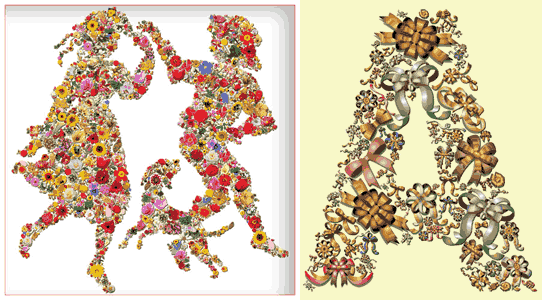 World's Largest Historical Photo Mosaic
Dr. Phil's 500th Show!

This mosaic was created exclusively for Dr. Phil's 500th show.
---
World's Largest Photo Mosaic!
We are proud to be part of the Athens 2004 Olympics. Made from over 27,000 unique pictures, the banner spans three sides of the Xerox building in Athens, Greece.


115 feet wide x 58 feet high - 35.05m wide x 17.7m high
Click here for more information about the banner
---
Proud to be part of the Salt Lake City 2002 Olympics.

Click here for more information and a video clip of our huge 27'x70' mosaic poster.


What are Magic Mosaics?

Poster mosaics
Magic Mosaics are various types of mosaic art starting with text and/or picture objects made into mosaics.

We go several steps further and produce true mosaic works of art using picture object collages, text and many different techniques to blend pictures into subjects.

The best way to really see the final result is to zoom in and explore a picture. Click on one of these links to see for yourself!

Dr. Phil mosaics
Sweet Adelines mosaic
Mic the police horse

Animated mosaics
Every tile is an animated video. Visit the Gallery for samples.

Scrappy mosaics
Mosaics made from scraps of just about anything. Click here for a sample.

Lattice mosaics
Mosaics made from many geometric shapes to look just like real mosaic tiles. Click here for a sample.






All web content copyright (c)
Magic Mosaics